There is no place like DreamCloud
This post contains affiliate links and I may make a small commission used to support this blog if the product is ordered via the links in this post.
DreamCloud is a 15" luxury hybrid mattress combining the best of latex, memory foam, handcrafted Cashmere blend cover, tufting, and coil technology to provide the best sleep money can buy. The finest destination for exceptional sleep, there truly is no place like DreamCloud.
DreamCloud is the most exceptional sleep experience, of unparalleled and unmatched value. The Finest Destination for exceptional sleep is not a five-star resort resting on a white sandy beach, or even an actual cloud… it's DreamCloud. There truly is no place like DreamCloud. No place as plush. No place as alluring. No place designed to lovingly cradle every inch of the human body and seduce it into sleep.
Dreamcloud floats at the intersection of sumptuous and luscious. A place where foam meets coil and gently lapses into a deep deep sleep. Where hand-tufting is the rule and pampering is the law. Where every mattress feature ever dreamt has been crafted and refined to transport you to the sleep of your dreams. Night after night after night.
365 NIGHT TRIAL
They believe you should sleep on a mattress all four seasons to decide if it's right for you. They will give you 365 risk-free nights on DreamCloud.
FREE SHIPPING AND RETURNS
They offer free shipping and return right to your door. If you're not 100% satisfied after 365 nights, They'll give you a full refund and come pick up your bed - no questions asked.
EVERLONG WARRANTY
They guarantee that DreamCloud will provide the dreamiest sleep for as long as you own and use DreamCloud. Their warranty is the strongest in the industry - it's Everlong. They will even clean or re-condition DreamCloud for free if needed, at no cost to you.
Dream the best dream of your life.
Twin - $799
Twin - XL $999
Full - $1,199
Queen - $1,399
King - $1,499
Cal King - $1,499
TWIN 39" x 75" x 15" and 55 lbs
TWIN XL 39" x 80" x 15" and 68 lbs
FULL 54" x 75" x 15" and 88 lbs
QUEEN 60" x 80" x 15" and 94 lbs
KING 76" x 80" x 15" and 109 lbs
CAL KING 72" x 84" x 15" and 109 lbs
The only mattress handcrafted with TrueTufted™ Cashmere Blend Cover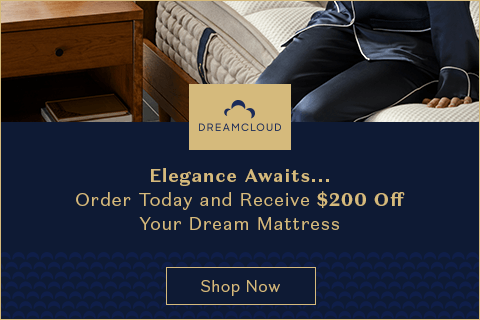 DreamCloud, a New York-based direct-to-consumer mattress company is making dreams come true by allowing customers to try out a luxury DreamCloud hybrid mattress for 365 nights.
The DreamCloud — a combination, CEO and co-founder Craig Schmeizer said, of the best of everything — comes in six sizes ranging from twin to California King, priced between $799 and $1499. Each one has luxurious features such as a hand tufted Cashmere blend cover, and a unique layer system combing premium memory foams and spring coils.
"Sleep should be a destination," Schmeizer says. "DreamCloud changes the way we experience sleep. It's like a first class ticket to the clouds."
The mattress truly towers over other direct-to-consumer "bed in a box" options which are typically made of memory foam and/or latex and stand around 10" tall. With 15" of plush comfort, the DreamCloud has a patent-pending support system which actively contours and cradles your body for a deeper, more restorative sleep.
"Previously it was impossible to buy a 15" luxury hybrid mattress that was both affordable and possible to try in the comfort of your own home," he said. "Getting into bed should be a plush, luxurious experience."
In addition to the 365-night trial, DreamCloud offers optional premium services like a free cleaning once in the lifetime of the mattress (which you may need since it's guaranteed to last Everlong!) and a White Glove delivery.
"We considered every aspect of the mattress to give you just about
everything you could possibly want to fall asleep quickly and
rest deeply," Schmeizer says.
"Everything, but the lullaby, that is."